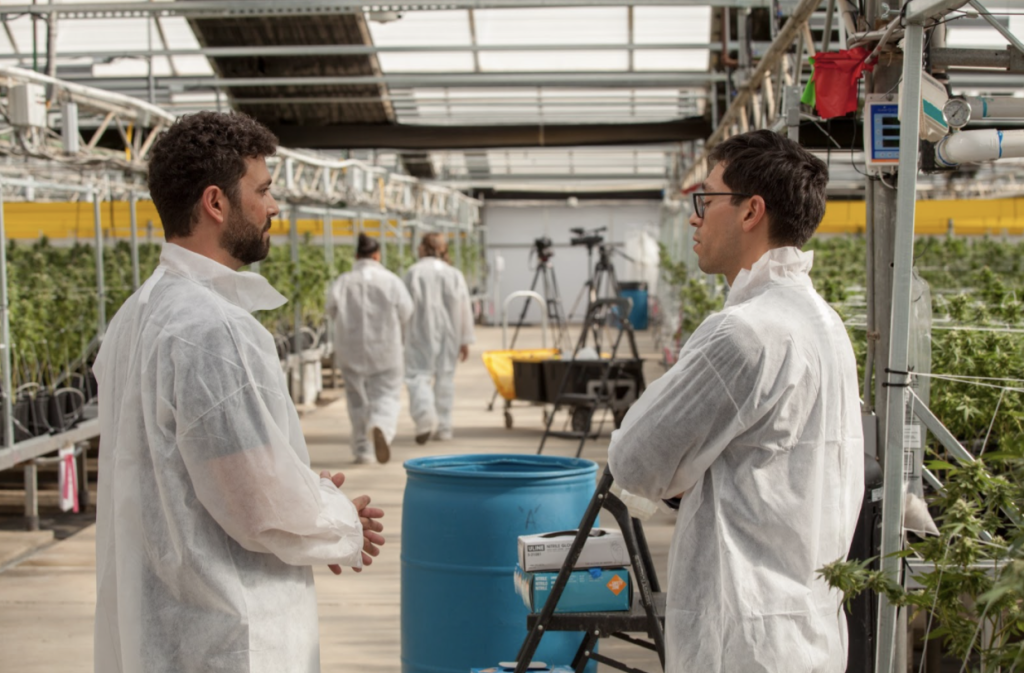 Navigating the cannabis business landscape in a regulated market is difficult. It takes not only a keen business sense, but a deep understanding of the cannabis plant. Many business savvy people think their background in other highly regulated industries is enough to bring success in cannabis. But the truth is, plant knowledge is also required. That is one reason why the Ganjier Cannabis Sommelier program attracts a wide range of those who have founded and lead cannabis businesses. I recently interviewed Isaac, Natasha and Patrick about their journey to the Ganjier program and how they feel the program will benefit their businesses.
What is your current role in the cannabis industry?

Isaac: I am the CEO of Entourage, which is a company focused on the true clinical use of cannabis formulations. We are based out of Colorado, and we work with hemp flower extract. Our primary focus is terpenes rather than cannabinoids. We have an approved human clinical trial for our formulation for treating long COVID. We should be finished in the next five or seven months. The second company I'm involved with, which I'm the chairman of, is Portland Cannabis Market, which is Oregon's largest independent wholesaler of recreational cannabis, and also the largest physical wholesale marketplace for cannabis.

Natasha: My current role in the Cannabis Industry is COO of DM Compassion Center, a startup Micro-Business. My role includes complying with the legal requirements of the regulated market as well as providing direction and day-to-day oversight in our Operations. I act as a community liaison, dance-around when stressed, ensure team member satisfaction, research products, maverick-a-way on social media, analyze trends, and for fun at the storefront dispensary I paint the windows and landscape. DM Compassion Center is in Clearlake, the heart of Lake County, a designated Dark Sky Reserve that sits adjacent to the World-Renowned Emerald Triangle.

Patrick: I am the Head of Cultivation and Master Grower for CannTx (Cannabis Therapy) Life Sciences Inc. I am also one of the founders, my primary role with our organization is managing the day-to-day operations and being accountable for all our plants, from micro propagated donor stock to harvest. My responsibilities also include oversight on post-harvest processing and managing some of the logistical challenges of getting craft quality flower products to consumers. We are located in Guelph Ontario, just west of Toronto. The Royal City (Guelph) has a proud agricultural history, and the University of Guelph is one of the leading agricultural schools in the country. This proximity is really great for our organization as the school is training their students with new approaches to controlled environment agriculture, adoption of biotechnologies and are continuously developing new leaders in this space.
What were you doing before you entered the cannabis industry?

Isaac: I was an investment banker servicing healthcare and tech in the mid 90s to early aughts. The last 20 years I've been doing C-Suite assignments and startup companies, these two cannabis companies are numbers nine and ten. I've been in really diverse industries, almost always highly regulated, and always a startup guy. I was a banker and at a desk when the Internet happened in 1994. That's when Netscape launched. Then it was like a whole new industry and for the financial markets, it was a big deal. When I saw cannabis legalization start in Colorado I thought, cannabis is bigger than the Internet.

Natasha: Before entering the Cannabis Industry, I was being a 'Kid'. I began Bud Tending as a young adult in Los Angeles. Outside of Cannabis, my primary work has been in Hospitality, performing Culinary Arts and providing Customer Service in Health Food Markets, Restaurants, and Hotels. Having seen my Ancestors drawings Hieroglyphics) in Egypt, I wholeheartedly dove into the rabbit hole as I became fascinated with Cannabis' ancient use in both Oriental and Old-World Medicine. I enrolled into a Medical Magnet program with the intentions to learn more about Cannabis and learned quickly that was not in the curriculum and that I preferred Alternative and Preventive Medicine instead. The Cannabis plant literally captured and hypnotized me! I knew at an incredibly young age it would be my Life purpose to advocate for clean alternative therapies, especially Sun Grown Cannabis! Having experienced and witnessed the firsthand impacts of The War on Drugs and having lost a multitude of loved ones from the consequences discovered by Alcohol, Tobacco, and Firearms- I naturally became tunnel-visioned. To this day, I wear my black sheep clothing with pride as I can attest that the Cannabis plant saved my life, in many respects. Growing up in Los Angeles, where the Cannabis Community and Culture is entirely different, and having lived my life far from what would be considered 'Traditional', I count my blessings and do my best to remain mindful. The grand balancing act of social equity is more pronounced where I reside now, here in Lake County. From 'Los Angeles to Lake', I would not be here now or have the understanding I have if I had not traversed the Urban Jungle of Los Angeles.

Patrick: I have been involved in cannabis to some degree for quite some time. Cultivating originally under the MMAR program and then CannTx, which was founded in 2013. So, I have been focused full time in this space since then. I was first introduced to cannabis cultivation in the early 2000's learning from the finest legacy cultivators from the Kootenays in British Columbia, so I have never really stopped since then. Along the journey to today, I have done a bit of everything, from commercial floriculture, landscaping, ecological restoration and several other side gigs, but working with plants and cannabis has always been part of my story.
Why did you decide to become a Ganjier?

Isaac: As a wholesaler, I trade bulk in flower, and the good news is I don't have to be the expert, because the buyers at many dispensaries are excellent. So, in my role as a wholesaler, it's more about facilitating an understanding. We have at any time a couple 4-500 different varieties all in pounds because in Oregon we don't pre-package so you buy pounds in pound bags and that's what we trade in. You can open them, smell them, look at the bud, and really inspect the pound. I want to be better in those conversations. I want to be able to bring more to the table.

Natasha: I decided to become a Ganjier because it fully resonates with who I am and what I am most inspired by and interested in. Acquiring knowledge and language to identify, communicate effectively, and guide are skills I enjoy cultivating. It is very refreshing that there is a clear pathway for us now and for those also beginning to have an interest in learning. I am excited to learn more and earn my Certifications!

Patrick: One of the reasons I really got into cannabis cultivation in the first place was seeing the benefit of cannabis therapy personally. Seeing the quality-of-life benefits improve amongst my own family having some medical challenges. This is when I first started connecting with more growers and other cannabis patients to get their experience with specific cultivars for specific ailments. For me that quality of life improvement was made possible with the use of cannabis therapy, and it has demonstrated clear value to me for a long time. It seemed if we're going to give a business like this a run, how do we get more people improving their life with cannabis therapy? When we started the CannTx journey I was able to witness the value of cannabinoids up close once again as one of our founders eased some of the physical challenges he was facing with the use of cannabinoid dosing daily. These experiences push me to continue my education and understanding of cannabis and how best to encourage others to explore it as well.
How do you think those with Ganjier training can add value to businesses?

Isaac: We typically represent 200 to 300 farms and we have relationships with those farms and in Oregon many of them are sun grown farms. We work with them to make sure that there's steady demand for the product throughout the year. Also, you've got oversupply in Oregon, so these are all areas where it's I think it's really important to be an expert in the flower on the wholesale side. Natasha: I think with Ganjier training, tremendous value can be added to businesses because it provides fundamental comprehension to-an-otherwise foreign story. For Starters, the origin of Cannabis to its' brilliant thought-provoking story of migration, to its' present-day place in the Market; the knowledge being shared is eye-opening! Time has proven it to be correct that if you teach a man how to fish, he can
feed his family, which brings me into a whole new way of thinking we should add if you teach a man or woman how to fish and cultivate, they both can feed their family and provide non-toxic shelter as well as therapeutic wellness options!
Patrick: My original introduction to cannabis was really an experience with a specific patient focus. We could spend the time to really understand their needs, try to help them curate some options. We had the opportunity to do trial and error, back and forth. Now we are in this commercial framework and we've got new consumers with varying levels of experience and desires. The challenge is really just trying to understand how best to provide flower products that excite and meet the needs of the wide range of CannTx consumers. By continuing to develop my ability to communicate all that is cannabis, I am enabled to share my passion and experience with my team, develop their cannabis knowledge and understanding as growers, processors, advocates, sales and the entirety of our organization from top to bottom.
What is one thing you have learned in the program so far that surprised you?

Isaac: Frenchy when he does his history of cannabis, I think he says that the earliest dating of it from pollen is 20 million years ago. I'm not really sure the exact number that he gives, but that was the most surprising thing…just the ancientness of it, how old it is.

Natasha: One surprising thing I have learned is how technologically advanced it all has gotten! From Old-World roots to modern day Lab Analysis and Concentrate Production; I think learning about the Cannabis plant on both the macro and micro level is the new 'Cool'! All the hard work put in by everyone involved in the creation of this pathway, really shines through! The collection of real-time data, combined and formulated to give us a measuring protocol tool for us to determine quality is phenomenal! Thank you all so much, I am enjoying myself and having a wonderful time in this program!

Patrick: One thing that really stands out to was the evolutionary age of the endocannabinoid system. We're going way back into vertebrates from as long as we really have any records. Frenchy's lessons about cannabis evolution and its movement across our planet were just incredible. I do like my history, but I've never really seen it all put together as well as that was done.

The Ganjier Cannabis Sommelier program has attracted students from all over the world and every part of the cannabis sector, including top level cannabis executives and business leaders looking to increase their skills, knowledge and acumen. Uniting them all is a deep respect and shared reverence for the cannabis plant.